1.
I am very jealous of everyone who is already on summer break! We go until June 14th, so I still have a litle while left. The last week of school we have Move Up Day. My soon-to-be third graders will be able to visit the third grade classrooms. In preparation for this activity, my students each wrote about one of their favorite third grade memories. They did a wonderful job and had a lot of fun with it.
2.
I saw a really cute DIY craft on Teacher Madness that I wanted to attempt. It actually turned out great. You can see the final picture below. I ordered the acrylic straw dispenser on Amazon for about $25 including shipping. Then I used scrapbooking paper to decorate and turn it into a pencil dispenser. For my final touches, I added some letter stickers to spell out "Pencils". My students think it is the coolest thing ever! :)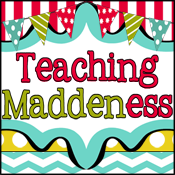 3.
I am trying to sort, consolidate, throw away, and organize my gazillions of papers. I am trying to swap from folders to binders for all of my files. Here's what I have so far... You can purchase my organizational binder covers and binder spines from my TpT store by clicking on the links below.
4.
I am VERY excited that I finished working on two major items in my TpT store.
Common Core Bundle: Reading Strategies Printables & Graphic Organizers
This 67 page product is loaded with printables, graphic organizers, writing responses, and comprehension strategy activities aligned with the CCSS for Literature and Informational Text.
Common Core Standards Nonfiction Text Features Posters
28 pages of non-fiction text features!
5.
After hearing all of the stories of survival and tragedy in Moore, Oklahoma, everyone wonders what you can do to help. Teachers Notebook is raising money and already has over $2,223.17 in products donated so far! Big love and prayers to everyone affected.